Garages are often used for more than just sheltering our cars at night- they are also the catch-all space for storing kids toys, lawn equipment, tools, camping supplies, and anything else that won't fit inside our homes! And since we often enter our homes via the garage, it would be great if our garages were organized, functional, and pretty, right? Here are 12 organized garage ideas to help you get organized!
*Please note that some of the links above are affiliate links, which means I will make a small commission if you purchase through these links.
Organized Garage: Kids Toys
Corral all of the kids' sports balls with one or two hanging mesh bins (similar to this one). We hung our bins in the space between the two garage doors.
Another way to store sports balls is between the wall studs by building out a small shelf and using bungee cords to hold everything in place. (From Designed to Dwell).
Use the nook space right inside of the garage door next to the door tracks to store kids toys on a storage shelving unit. And when you use groups of containers in similar colors– it looks beautiful too! (From I Heart Organizing)
Give the kids a designated place to park their ride-on toys by creating parking slots out of painter's tape, and teach them what to park where with pictures on the wall! (From Org Junkie)
My husband created designated scooter parking spaces on one wall by mounting pieces of wood on the wall to act as "rails" to hold the scooter handles, and lined them with strips of an old garden hose to create a bumper.
We have A LOT of bikes in our family! And if you don't have a way to park them, they end up toppling over on each other. So we purchased bike parking racks which allow us to park two bikes per rack.
Another great way to store a lot of bikes off of the floor is to hang them. (Originally at Good Ideas for You- link no longer active)
Organized Garage Storage
I am a huge fan of using plastic totes to store everything from lightbulbs to camping equipment to spare parts. We line ours up on metal shelving and make sure that each bin is clearly labeled.
I love this idea of using inexpensive curtain panels to hide the contents of the metal shelves from view. So pretty! (From A Thoughtful Place)
You can maximize storage space by creating hanging shelves from the ceiling. Just make sure you have enough room to park your car beneath them. (From A Bowl Full of Lemons)
Organized Garage: Lawn Equipment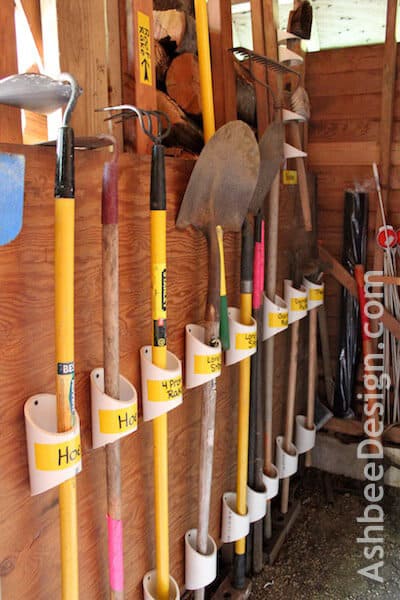 items like the lawn mower and leaf blower are going to take up floor space in the garage. But when it comes to items such as shovels and rakes, you want to get as much as you can off of the floor and hung onto the walls. (From Ashbee Design)
Organizing Tools in the Garage
Maintaining a home requires tools- smaller ones you can hang on a pegboard wall and larger ones that need a storage spot. My husband lined the back wall of our garage with pegboard. He then created a workbench with storage beneath it.
This solution works out well when you have a deep garage like ours!
Is your garage organized? I would love to hear or see some of your best tips!
Looking for some more great ideas on how to organize your home?